My car, wife and me........
At 64 years old, I suppose I'm one of the eldest people in the Subaru community but as this is my car story, let's step back a few years.
I passed my driving test in my first car, which was a Sunbeam Rapier 1600cc, made by the Rootes Group and I was well chuffed. Over the next few years it was all Fords - a MKII Consul followed by a MKIII Zodiac and then a Corsair. By 1974, I was married and around '76 the Corsair was replaced with a Mini 1275 GT. My next car was a Fiat 132, which up till then, was the best car I ever owned.
By the age of 30, I had qualified as a driving instructor, so my attention turned to a smaller car that could be used for my business and still serve as a family runabout. Enter the Toyota Starlet, which was replaced after two years with a Nissan Micra. Now, after 34 years and several vehicle changes, I have a Suzuki Swift 1.3TDi.
SUBARUS AND ROSY B
By 2002 I was divorced and running two very expensive teenagers (I love them really). I then found the love of my life, Rosy B (the girl not the car). After two years of hard work and saving to clear the mortgage, we thought "sod it! Let's treat ourselves to a nice car to enjoy ourselves with at weekends". A TVR was top of the list but then my daughter announced she was expecting our first grandchild. We now needed to think about child seats, so that ruled out any kind of sports car - or so we thought.
We had settled on a Honda Civic Type R, this being a nice compromise between sporty and practicality and were on the verge of purchasing, when Rosy spotted an ad for a special deal with a Subaru dealership. We knew nothing about these cars really but we were so impressed by our test drive in the WRX Bugeye, that we had to buy one. Comfort, performance and plenty of room for child seats and shopping, what's not to love.
After a year of very enjoyable motoring, we were back at the dealership with the WRX having it's first service. One of the salesmen offered us a test drive in an STi while we waited. We had never even heard of them but as we were just sitting twiddling our thumbs we thought why not. By the end of the test drive, we had caught the Subaru bug, big time. We upgraded the bugeye to a blobeye V8 STi with full performance pack and thought this car would last us.
In 2004, we attended the Autosport International at the NEC where the Crossroads Subaru stand was showcasing what we thought was just a new colour of Subaru. This turned out to be the brand new limited edition WR1 STi. One look and we were smitten and No 82/500 was soon to be our new car.
RCM AND MODIFYING
My local motorist shop suggested I try RCM for servicing, as they were only about 4 miles away from my house. My first visit to their workshop impressed me so much I knew that this was the place. Olly Clark showed me round and I left there, fully confident that these people would really look after my Subaru.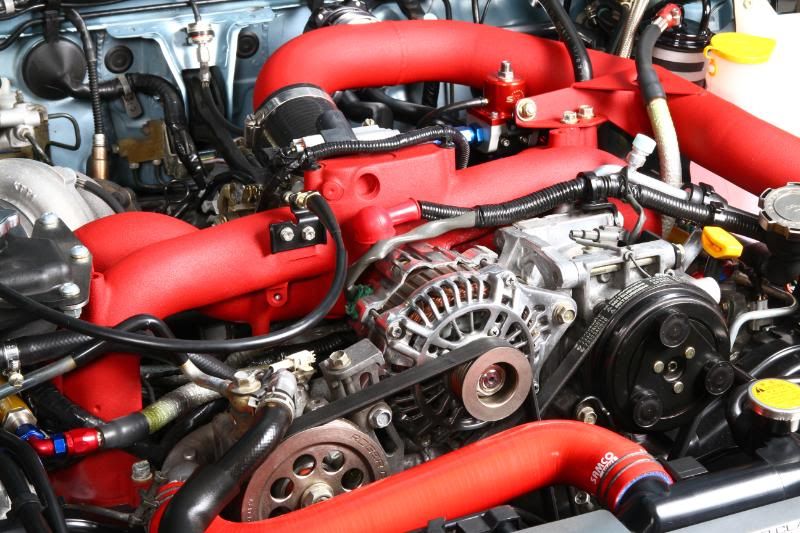 After about 6 months of going to shows and learning about tuning and modifying, I had the urge for a power increase. Rather than the usual induction kit/remap route, I decided to go the whole hog. A fully forged engine, AP brakes, carbon prop, extra dials and MoTec ECU, took R9 SYB, aka Rosy B, up to 490 BHP. Various upgrades have followed over the last 10 years, including an RCM rotated turbo set up, with new GTX 35 Turbo, EX-TC suspension and more, resulting in an impressive 600 BHP.
Rosy B has won prizes at some of the many shows we've been to over the years and been featured in numerous Japanese performance and Subaru magazines. In 2010, she won Impreza Idol, a yearlong competition run by Total Impreza Magazine. We won £1500 worth of car goodies which we sold to raise money for a breast cancer charity.
RCM – THE COMPANY/MY FRIENDS
RCM is not just another Subaru garage, it's a way of life. How you are treated as a customer, how your car is treated, the attention to detail – all of this is 1st Class. It's like home from home for me and I often drop in during the week for a cup of tea and a chat. Saturday is "Bread Day", so we all have fresh baked bread from the local bakery and if you've been there you may well have gone home with a fresh crusty loaf. In the winter we all have hot soup and cakes.
I have now taught Matt's lovely daughters, Abby and Danielle to drive, both passing first time - it must be the Roger Clark genes.
At the end of my working week, I always finish at RCM for a chat and a catch-up and to check out what's new.
RCM and Subarus....don't you just love 'em